Add to Favorites
Summer Time Kid-Friendly Snacks
May 06, 2022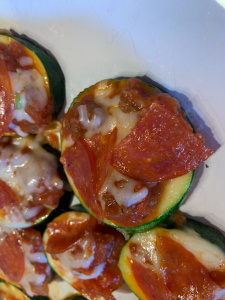 Summer time is coming soon. Cue the kids opening the refrigerator constantly, draining the pantry and asking "Mom, what's for dinner?"
We know from food surveys that kids in the U.S. don't usually get enough calcium, DHA (think healthy brain and heart fats), Vitamin D, and iron. So here are our top picks for providing nutrient rich foods that kids will actually eat.
1. Fortified Cereal: We look for brands with less than 1/2 of the total carbohydrates coming from sugar. (Ex: if the total carbohydrates are 20g per serving, choose a cereal with <10g of sugar). We serve it several ways to kids:
-for older kids, choose 1% or skim milk, fortified plant-based beverages (oat milk, almond or soy) or as part of a homemade trail mix: 3c cereal, 1c raisins or dried cranberries, 1/4c mini-chocolate chips. Divide this up into sandwich bags and store in your pantry. Keeps for about a week without getting stale.
-for younger kids: dry cereal mixed with freeze dried fruits (these are sold in packages at most grocery stores --we like the strawberries)
2. Pinwheel sandwiches: Roll a large whole wheat tortilla around the following fillings. Slice into 4 servings, refrigerate and eat:
-2T peanut butter and 1 banana
-2T almond butter and 1/2 sliced red apple
-1T mustard, 3 slices deli ham, 1 pickle in the center
3. Veggie pizzas: use zucchini coins as a base, add pasta sauce and cheese, bake for 15 minutes in a 375'F oven. Bonus: get the kids involved in toppings with colorful veggies: our kids like chopped celery, peppers, and olives.
4. Tuna: make a "tuna boat" out of a hollowed cucumber, add canned tuna and mayonnaise
5. Pasta salad: toss tri-colored spiral pasta in olive oil and vinegar and add familiar veggies that your kids already love. If they don't routinely eat veggies, consider a sprinkle of parmesan cheese instead.
5. Packaged pantry-friendly snacks (those marked with an * may require refrigeration):
| | | | | | |
| --- | --- | --- | --- | --- | --- |
| Fruit | canned in water peaches | freeze dried strawberries, banana and mango | raisins or applesauce | Fruit juice that is 100% juice | canned mandarin oranges in their own juice |
| Grains | pretzel sticks | oatmeal packets (look for minimal "added sugar") | whole wheat pasta | whole grain crackers (first ingredient should say "whole") | light popcorn |
| Vegetables | freeze dried snap peas | chickpea puffs | dried and flavored chickpeas (sold in the nut or chip aisle) | tri-colored veggie straws | packaged squeeze packs with pureed veggies (for younger kids) |
| Dairy* | Powdered milk packets, flavored (typically sold in the cereal aisle) | yogurt covered raisins | yogurt bites freeze dried (for younger kids) | low-fat cheese sticks | 1 or 2% yogurt (opt out of candy flavored yogurts) |
| Meat/Protein* | Edamame (frozen packets can be microwaved) | lean turkey, ham or chicken | chicken sausage links | for those over 6 mos of age and clear of food allergies (consult with your  pediatrician): smooth almond butter, sunbutter or peanut butter | hummus dip or black bean dip |
Tips for Success:
Kids crave autonomy when selecting snacks. Offer familiar foods alongside "new-to-your-child" foods and keep portions small to avoid overwhelming them.
Create a special place where your child can self-serve him or herself snacks. Label snack bins with your child's name and keep them at eye level in your pantry or refrigerator to minimize distractions.
Involve your child in selecting and preparing snacks. Kids are more likely to eat what they make!

Need more personalized help with your child's snacks? Partner with one of our seasoned registered dietitians by emailing us at info@northtexasnutrition.com
Leave a comment